Coles Bay is the township nestled at the foot of the Hazards Mountain range. Locatedatn the heart of, and gateway to, Freycinet National Park.
For a "quick" trip from Launceston, (2 – 2.5 hours) Head south on the A1 until you reach Campbell Town, drive almost all the way through and you will see a large sign on the left hand side announcing a turn for Lake Leake and Swansea. If you're peckish, Campbell Town is a great place to stop and grab something to eat. Our favourite is Zeps.  They have been doing what they do for years. And they do it well.
It's also your last chance for shopping in a while so if you want to take a peak, Lake Leather and Coco Blue  are there for the browsing.
Once you've finished in Campbell Town, you can head across Lake Leake and you will come to the A3 in just under 60km.
Turn left again and follow the road, in a little less that 25 km you will come to the Coles Bay turnoff on the right hand side of the road.
You will pass some Vineyards along the way and if you would like to know little more about them, you may find this post useful.
If you love driving, there is also a scenic route; it is at least an hour longer, quite often more. You begin at the A1 again, but turn left at the Conarra Junction onto the A4.
From there, the road will lead you through rolling fields and quaint country towns, through Avoca and Fingal until you reach St Mary's, at which point, turn right onto the road signposted to Elephant Pass and Bicheno.
Elephant Pass is a very windy road and not for the faint of heart. But it is quite stunning. There is a pancake parlour  at the top of the Pass which sells coffee (1980's style) and funky tasty pancakes. We recommend you try both, just for the novelty of the location and operation.
After the pass, you will arrive at Chain of Lagoons, at which point you turn right heading into Bicheno. You are on the A3 now and from Bicheno, the Coles Bay turnoff is just another 11km south.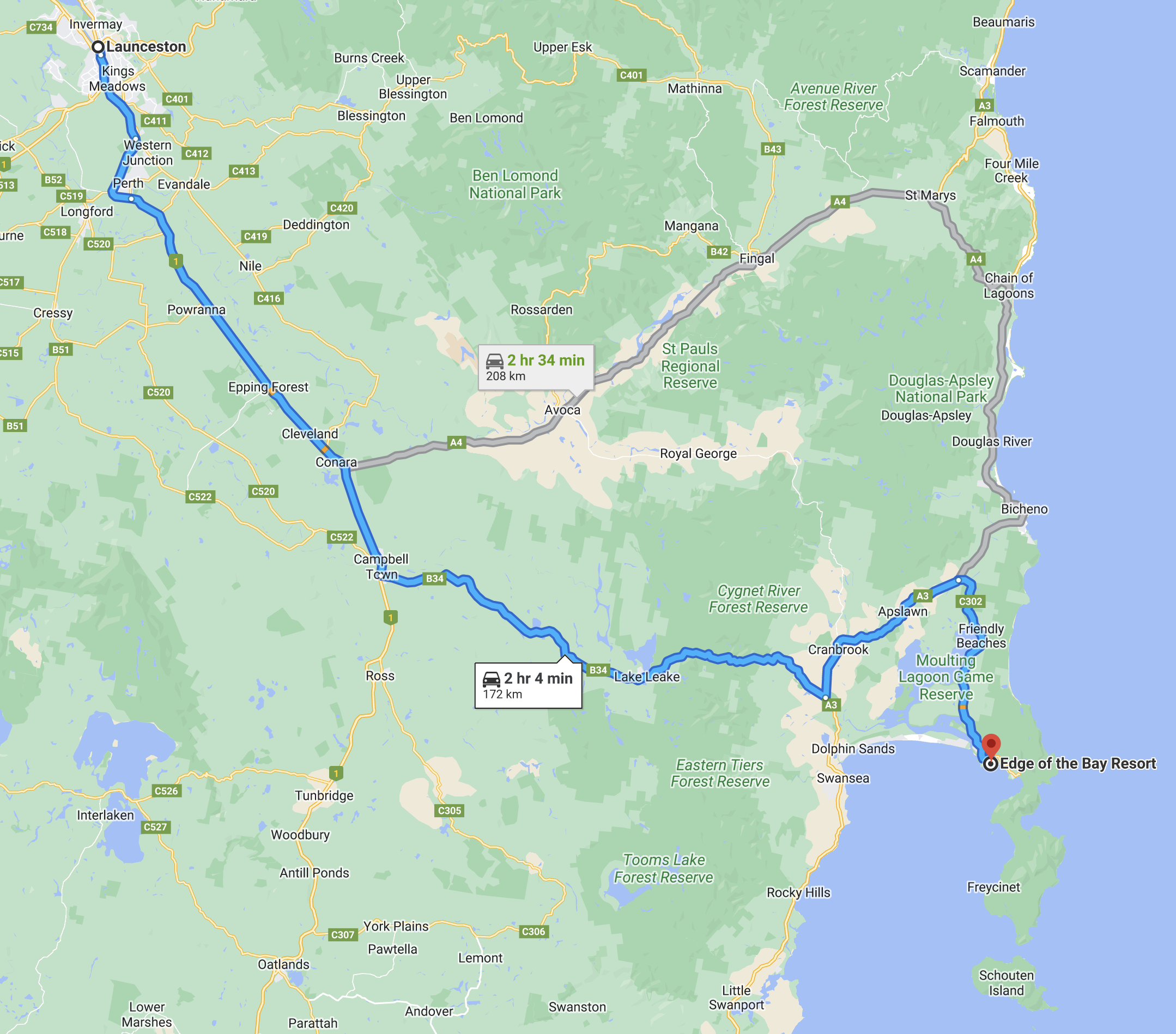 Screenshot from Google Maps